Recliners have come a long way since their 1920's introduction to America. Originally designed for medical purposes, recliners have since evolved, becoming symbols of rest and relaxation. What better way to watch the big game than from the comfort of a soft, cushy, reclining chair? Whether this thought makes you want to immediately clear space in your living room or just put it on a list of things only your spouse wants, there have never been more recliner options to entice than there are today. Just take a look at all your options.
For those who love a traditionally styled recliner, there's the tried-and-true casual, comfy version featuring plush padding for that overstuffed feel. The Leya is a great example of this. Not only is the Leya cozy, it's also convenient with its power recline and power tilt headrest. What's the benefit of a power tilt headrest you ask? It allows you to avoid straining when you lie back by keeping your head and neck lifted and supported as you watch the game or read a book in the reclined position. We can't forget to add, the Leya is a rocker, too!
If you love a sleek, Scandinavian, contemporary style, you'll enjoy a recliner with a trim, tailored line and angular edges. The Cody offers classic lines and modern comfort with its smooth power recline and supportive power headrest.
Transitional recliners showcase styling details like roll arms, nail head trim, and stitching enhancements. The Oscar and its sophisticated silhouette is a great example of a transitional style recliner. You'll love the heavy thread stitching details and the nail head trim along the front of the arms. The Oscar uses power to effortlessly change angles from upright to fully reclined. A power hand control allows you to independently adjust the headrest and lumbar for custom relaxation. A wonderful added feature is a battery backup for use during power outages.
If you're looking for a timeless look with the refined style of an accent chair, the classic club chair and the high leg are recliners in disguise. Sporting top grain leather, nail head trim, and a dark wood finish, the artisan Collin manual push back recliner is a superb option.
As you've probably noticed, style isn't the only consideration when selecting a recliner in the 21st century. You'll want to decide on the mechanics. Do you prefer the ease and convenience of a power recliner like the Leya, the Cody, or the Oscar we just discussed, or do you love the old-fashioned, rugged appeal of a manual push back, press back, lever, or handle? Let us take a look at options.
Pressback recliners bring a bit of the past to the present. Timeless and warm, pressback chairs feature curves, turned legs, and a chair crest or back displaying a pressed pattern. Smith Brothers' pressback reclining chair is one such timeless example. This high leg reclining chair features a rounded, tufted back with turned bun feet and nail head trim. The rolled arms and box seat cushion are popular elements on accent pieces due to their timeless design style. Use this piece in your living room or family room to get the comfort of a recliner without the bulky look.
Traditionally, recliners were made with levers and handles. The Ballinasloe is a nice handled option. A mastery in less is more, this rocker recliner manages to make cool, contemporary design so warm and cozy.
Tab pull recliners are similar to lever and handle options in that they are manually reclined yet more discreet. If you love the cool look of leather but long for the warm feel of fabric, you'll find the Bladen rocker recliner fits the bill beautifully.
Power recliners recline at the touch of a button and are the easiest to operate with some having memory settings as well as USB charging, power headrest, and even massage capabilities. The Hazenburg zero wall power recliner is covered in high-performance padded faux leather making it remarkably durable and easy to clean, just the thing for family spaces. When it's time to relax, the one-touch power control puts the perfect position at your fingertips. Channel-stitched back cushions provide indulgent lumbar support for maximum seating comfort—not to mention fashion-forward flair.
Lift chairs are fully automated power chairs and are ideal for those with mobility issues since they can lift you from a seated position. Many offer lay flat reclining as well. Something to think about if purchasing a lift chair for medical purposes is to make sure it has a battery backup for use when the power goes out. The Jenkins lift recliner offers clean lines, support, and comfort. A sunken padded arm frames the contemporary arm front. With a fully padded footrest, this lift recliner provides tremendous comfort for when you're reading a book or watching TV. Jenkins' easy-to-use hand control makes it an ideal piece for your home.
Another great lift recliner is the Ballister. Its easy power button motion control allows you the full spectrum of comfort—from a gentle lift-and-tilt for standing up to a lay flat design ideal for an afternoon snooze. Not much gets past the power adjustable headrest and lumbar support, or even the independent motor controls to get that just right position. You'll always stay connected with the included USB charging port in the power control, and relish in the hours of versatile support that never stops giving.
Wall hugger recliners are great for hugging close to a wall or furniture. When reclining, these extend forward so they don't invade the space of nearby walls or furniture. The wall hugging Nerviano recliner indulges in comfort—while saving on space. This zero-wall design means you only need a few inches of room between the back of the chair and the wall to fully recline. Making high comfort highly affordable, this smartly tailored recliner with a clean-lined divided back is wrapped in a plush, textural upholstery that's a pleasure for the senses.
Rocker recliners rock when upright with many having swivel capabilities, too. The Kerrie (shown here in 319-40 fabric) recliner has a recessed pad on the rounded track arm, chaise pad, and biscuit-tufted back to give it exceptional comfort with refined, contemporary style.
Swivel recliners swivel and turn at the base allowing them to easily pivot to reposition themselves. These are great for entertaining. Take the Wicklow, for example. Its trendy style with its puckered stitching and contrasting seams in a complementary shade gives it a pop of color along the front shape of the arm and the recessed back wings. Enjoy smoothly gliding back and forth or reclining from an upright to a fully reclined position. A power reclining mechanism lets you change angles effortlessly with the touch of a button, and a dual power button allows you to independently adjust the headrest for custom relaxation. The Wicklow is a wonderful option.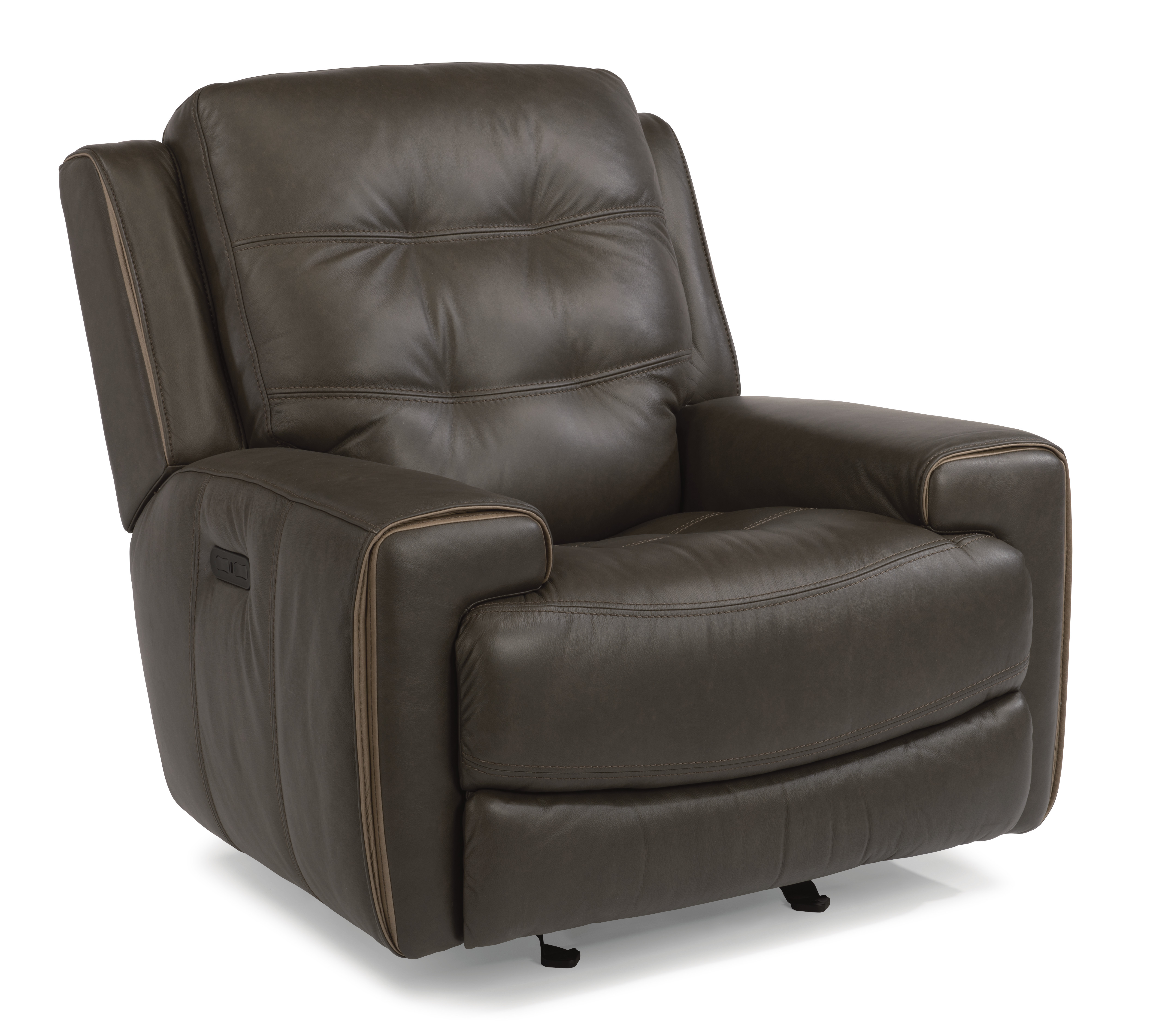 Looking for a chair with the power headrest we mentioned earlier to allow you to comfortably lie down while watching TV? Both the Kenner and the Mustang have you covered. The Kenner is a lift chair with a divided back cushion featuring deep button tufting on the bottom to add depth to the style and to provide extra pockets of comfort for sink-in reclining. Kenner's easy-to-use hand control makes it an ideal piece for your home.
Another power reclining headrest chair option is the Mustang, a recliner inspired by cowboy boot designs. Its intricately stitched arm design adds a unique, distinctive touch to this style. Large stitching in a contrasting leather throughout the piece adds yet another layer of texture and visual interest. Divided back cushions, subtle bucket seats, and fully padded footrests provide blissful sink-in comfort for long movie nights with friends and family.
With so many types and styles of recliners from which to choose, you're sure to find a great match. Visit one of Missouri Furniture's seven showrooms to try one out today.
Missouri Furniture offers a wide selection of Furniture, Appliances, Mattresses and Hot Tubs. Each showroom features Living Room furniture, Bedroom furniture, Dining Room furniture, Home Accessories, Mattresses, Home Appliances and Outdoor Furniture, with some featuring Hot Tubs as well. Missouri Furniture's highly rated Five-Star In-home Delivery Team, Happiness Guarantee, Free 10 Year Appliance Warranty, Missouri Best Price Guarantee, and Furniture Care Protection Plan all contribute to a seamless experience from shopping to delivery and beyond. Clients have peace of mind knowing they are purchasing the highest quality merchandise at the best price, and their purchase can be protected against everyday life! Family owned and locally operated, Missouri Furniture has been serving the State of Missouri since 1977, with seven showrooms throughout the state and an eighth scheduled to open in fall 2021.
For more information, visit MissouriFurniture.com and follow them on Facebook, Instagram, Pinterest and YouTube.