Vacations, barbeques, swimming, boating, golfing, biking, hiking, camping, shopping, and family reunions…all reminders summer is here. Summer is a great time to visit family and friends, whether you are the host or the hosted. If you happen to be the host, we have some great tips for making summer visitors feel welcome and at home.
Tidy up your guest room. Breathe new life into your clean bedding with a fresh wash. Liven pillows with freshly ironed cases for a crisp, "rest your weary head on me" feel. If your mattress is sagging and uncomfortable, summer is a great season to shop for a replacement. You'll be more prepared for fall and winter holiday guests! Leave fresh towels, washcloths, and even plush robes in the bathroom for the ultimate relaxing retreat. It is also helpful to leave extra blankets and linens in the closet for cooler nights and any accidents.
Make some space. Leaving two drawers empty if your chest of drawers is already in use, accommodating hanging space in the closet, or adding a dresser to your guest room is a convenient gesture. Being able to unfold and hang clothing after traveling or simply having easier access to them in a drawer is a pleasure for guests. If your room is doubling as a guest room and you're tight on space, a folding luggage rack comes in handy.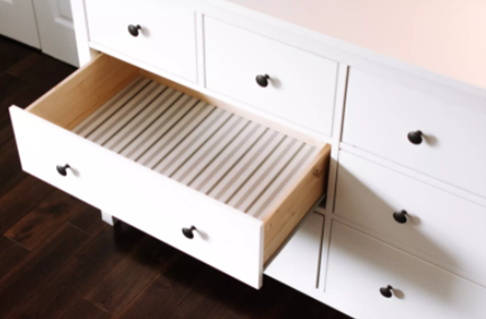 Photo Credit: The Spruce / Jorge Gamboa
Create a workspace. Whether it is maintaining work responsibilities or just enjoying a place to read, write, or sketch, a flat surface is a welcome addition. A small desk or table with a comfy chair works nicely. Style an accent tray with pens, paper, magazines, and some of your favorite reads for placing on the desk. Add a throw for cooler evenings and you're a guest's best friend.
Photo Credit: Driven By Decor
Keep the important things accessible. Place remotes on the nightstand for easy access along with basic usage instructions and the house wifi password. If you'll be working or away during a portion of your guests' stay, leaving brochures and preparing a list of your favorite restaurants with maps and recommended shopping, gym, and swimming options is helpful. Extra house keys with security system details should be left as well. Don't forget to have a universal charger for cell phones and devices nearby.
Prepare a home away from home basket. A thoughtful basket of toiletries placed in the bathroom for those guests who forget to pack essentials is a great gesture of hospitality. Include toothpaste, toothbrushes, dental floss, mouthwash, Dixie cups, a hairbrush, a comb, shampoo, conditioner, soap, lotion, shaving cream, razors, makeup remover, cotton balls, Q tips, and even contact solution, band aids, tampons, sunscreen, and bug spray if you want to be magnificently prepared. Offering an iron and ironing board in the closet, plus adding a lighted mirror in the guest bathroom is also appreciated.
Photo Credit: Salty Canary
Set up a coffee station and midnight munchies tray. When you are away from home for any length of time, it's a vacation. Midnight snacks lend themselves well to vacations. Preparing a tray with your guests' favorite snacks and making a coffee and tea station is a fun way to say, "Have fun without having to sneak into the kitchen."
Photo Credit: Romancing the Home
Set the mood. Make sure you offer adequate lighting for late night reading and wandering with nice lamps and well-placed nightlights. A fresh floral bouquet or plant on a dresser or nightstand is an elegant touch.
Preparing for summer guests can be a fun and exciting activity. The main goal is to make guests feel welcome and ready for a return visit. In preparation for your next guest, stop by one of Missouri Furniture's seven locations to see the latest options in bedroom furniture, lamps, accessories, and more.
Missouri Furniture offers a wide selection of Furniture, Appliances, Mattresses and Hot Tubs. Each showroom features Living Room furniture, Bedroom furniture, Dining Room furniture, Home Accessories, Mattresses, Home Appliances and Outdoor Furniture, with some featuring Hot Tubs as well. Missouri Furniture's highly rated Five-Star In-home Delivery Team, Happiness Guarantee, Free 10 Year Appliance Warranty, Missouri Best Price Guarantee, and Furniture Care Protection Plan all contribute to a seamless experience from shopping to delivery and beyond. Clients have peace of mind knowing they are purchasing the highest quality merchandise at the best price, and their purchase can be protected against everyday life! Family owned and locally operated, Missouri Furniture has been serving the State of Missouri since 1977, with seven showrooms throughout the state and an eighth scheduled to open in fall 2021.
For more information, visit MissouriFurniture.com and follow them on Facebook, Instagram, Pinterest and YouTube.
Header Image: Braxton Culler Cooper Bed