A new comforter, duvet cover or coverlet is a great way to update or completely transform your bedroom. After all, your bed often occupies the most visual space and is the focal point of your bedroom. Two keys to selecting the right bedding are your desired style and color palette. Let's take a look at a few options that may help narrow your search for the perfect bedding!
If you're looking for refined classic bedding, you can't go wrong with our Chateau Comforter Set or Anslee Duvet or Comforter Set. Their neutral palettes blend well with any accompanying furniture and accessories. Their textured vertical stripes are a great way to add interest and draw the eye down the entire length of your bed.
Blue is such a serene calming color that is perfect for bedrooms. We have two distinctly different looks to help create a haven for tranquility and sound sleep. The elegant Maison Eight Piece Comforter Set provides luxurious comfort and a chic transitional look. Our Calum Duvet or Comforter Set brings a rich textural feel to your space.
We love the casual relaxed feel of both of these sets. Our Country Lane Duvet Cover blends well with other colors, and the added texture gives your bedding more interest. Our Essence Comforter Set has a subtle gray color with added texture and button closures that provide a unique touch.
Plaid comforters are perfect for a more rustic look. Our Urban Cabin Cotton Jacquard Comforter Set's accent pillows provide a whole new dimension with varied texture and design. The contrasting fabric accents, buttons, and tufts on both sets give each one extra character.
Looking for a Bohemian abstract style? Our Jinx and Imani Comforter Sets in soft soothing tones provide plenty of opportunities to add your own artistic unconventional accessories to make your space uniquely you!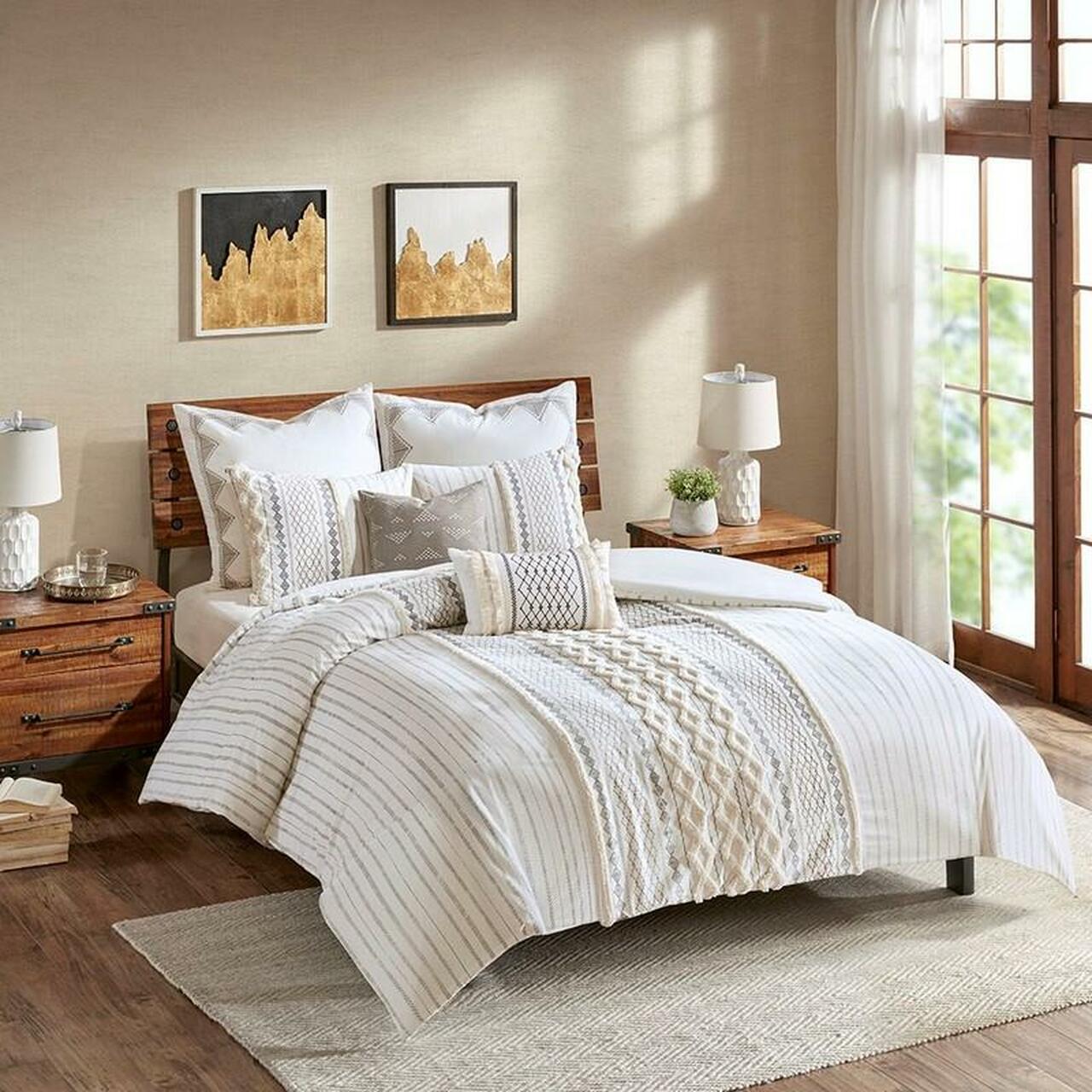 Today's popular Farmhouse style is all about simplicity – neutral colors and softer fabrics for a look that is oh so cozy. The neutral blues and creams in these two sets are perfect – Our Suzanna Cotton Comforter Set adds a touch of elegance, while our Farmhouse Comforter Set is appealing for a more casual rustic space.
Add an elegant sophisticated look with lace patterns and design treatments. Combined with a neutral palette, our Sophia 8 Piece Comforter Set and Barely There Comforter Set provide subtle interest, without overwhelming your space.
Lighter quilts and coverlets are ideal for warmer climates or summer months. They are not as heavy as comforters and have a small amount of fill for added comfort. They're excellent for layering to give your bed more interest and color. These two designs offer both a muted pattern and a bolder look, each drawing attention to your bed.
It's amazing how a change in bedding can transform your entire bedroom! With so many choices, it may be hard to decide, but we're here to help. Stop by one of our showrooms to see some of the options we have, and explore other styles until you find the look you love. We hope to see you soon!
Header Image: Sanctuary Comforter Set
Missouri Furniture offers a wide selection of Furniture, Appliances, Mattresses and Hot Tubs. Each showroom features Living Room furniture, Bedroom furniture, Dining Room furniture, Home Accessories, Mattresses, Home Appliances and Outdoor Furniture, with some featuring Hot Tubs as well. Missouri Furniture's highly rated Five-Star In-home Delivery Team, Happiness Guarantee, Free 10 Year Appliance Warranty, Missouri Best Price Guarantee, and Furniture Care Protection Plan all contribute to a seamless experience from shopping to delivery and beyond. Clients have peace of mind knowing they are purchasing the highest quality merchandise at the best price, and their purchase can be protected against everyday life! Family owned and locally operated, Missouri Furniture has been serving the State of Missouri since 1977, with seven showrooms throughout the state and an eighth scheduled to open in fall 2021.
For more information, visit MissouriFurniture.com and follow them on Facebook, Instagram, Pinterest and YouTube.